DENSIFIQUE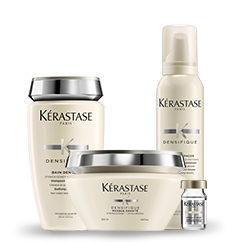 HAIR DENSITY AND FULLNESS PROGRAMME
In 2016, Kérastase creates two Densifique programmes adapted to the distinct needs of men and women. Both programs combine glycobiology,with Stemoxydine® which can reveal a new dimension of hair thickness.
1. BATH
 
Bain Densité
A professional shampoo designed to reveal hair density.

Bain Densité Homme
Biotin or Vitamin B6 added to the formula with texturising polymer, which instantly brings density by weaving itself into the fiber.
2. TREAT

Fondant densité
The silky-soft density treatment wraps each fiber in a light protective film, to gently strengthen it. Enriched with Intra-Cylane, this product brings a light, noticeable and refined sensation for thin strands of hair, to encase them without weighing them down.

Densifique Sérum
AFTER 1 USE: Hair looks more volume. For soft, shiny and manageable hair.*
AFTER 10 DAYS OF TREATEMENT: The hair fiber feels strengthened and revitalised. Hair looks fuller, stronger and volumised.
*Consumer test – self assessment – 122 women

Densifique Sérum Jeunesse
Lifts up roots and magnifies volume, helps improving shine and radiance of hair, even grey hair and restores the youthful softness.

Masque Densité
A professional masque designed to reveal hair density. Supporting smoothness and lightness to hair whereas regenerated from roots to ends.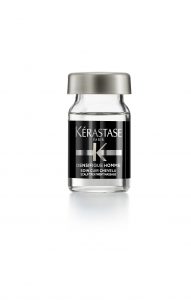 Densifique Sérum Homme
AFTER 3 MONTHS OF TREATMENT: +1,700 hair are revealed. Hair is significantly denser.**
More Texture, More Body, More Density **
**Clinical test. Average value.