NUTRITIVE

PERSONALISED NOURISHING CARE FOR DRY, SENSITISED HAIR.
Our first Gluco-Active enriched haircare programme to boost conditioning nourishment to tip. Hair feels replenished with softness and left light and supple with an incredible shine.
1. BATH

IRISOME BAIN SATIN 1
Exceptional nutrition shampoo for normal to slightly dry hair. Hair is infinitely light and nourished, with a brilliant finish.

IRISOME BAIN SATIN 2
Complete nutrition shampoo to restore the nutritive balance of the hair fiber.

BAIN NUTRI-THERMIQUE
Thermo-reactive intensive nutrition shampoo provides the hair with intense and long lasting nutrition. Hair is easier to untangle.
BAIN OLÉO-RELAX
Smoothing shampoo to left hair soft and supple, being well prepared to receive care.
2. TREAT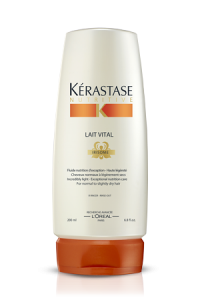 IRISOME LAIT VITAL
Incredibly light, exceptional nutrition care for normal to slightly dry hair. Hair is soft, silky and exceptionally light.

IRISOME MASQUINTENSE THICK HAIR
Highly concentrated nourishing treatment for dry and extremely sensitized thick hair. Transforms dry hair offering easy detangling, straightening, and a silky touch.
FONDANT NUTRI-THERMIQUE
Thermo-reactive intense nutrition conditioner.

MASQUE NUTRI-THERMIQUE
Thermo-reactive intensive nutrition masque. The hair is softer, with a more cosmetic touch.
MASQUE OLÉO-RELAX
Smoothing masque with the intense nourishing formula softens the hair leaving it smooth and manageable.
3. TEXTURIZE

NECTAR THERMIQUE
Nourishing care with heat-styling protective agent, for dry to very dry hair. For heat styling tools and hair-dryers. Ideally supple hair and add optimal shine and softness from root to tip.
OLÉO-RELAX SERUM
Smoothing controlling care for fine to medium, frizzy hair provides long-lasting smoothness, shine and manageability.