RÉFLECTION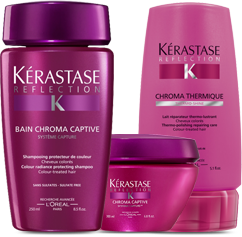 PROTECT AND MAINTAIN LONGLASTING COLOUR RADIANCE
Kérastase has created Reflection, our first light-reflecting haircare regime which transforms each hair fibre, revealing a mirror-like shine.
1. BATH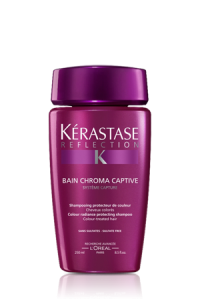 BAIN CHROMA CAPTIVE
Colour radiance protecting shampoo to keep your hair colour never fades.

BAIN CHROMA RICHE
Highly sensitized colour-treated hair
Luminous softening hair bath for highlighted or sensitized coloured hair, hair feel soft and smooth.
2. TREAT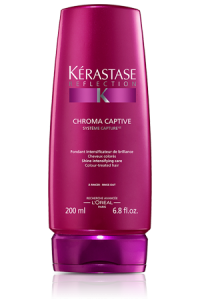 FONDANT CHROMA CAPTIVE
Shine intensifying care fro colour-treated hair to capture and prolong the hair colour in its most perfect state.

MASQUE CHROMA RICHE
Softening treatment masque gives maximum shine and hair feels moisturized and controlled.

MASQUE CHROMA CAPTIVE
Shine Intensifying Masque to replenish nutrietns to colour-treated hair.